Dragonchain Proof Systems for Centralized Exchanges
In the immediate days following the implosion of FTX, industry participants started to question the health of other centralized exchanges across the ecosystem. As a result, exchange leaders quickly committed to releasing "proof of reserves" to calm fears. As quickly as the screenshots of exchange reserves filled twitter feeds as did accusations that exchanges were sharing reserves to make it look like they were in a better position then they actually were. People became increasingly aware that the crypto industry does not practice what it preaches.
As pointed out in the tweet below it's time to do better.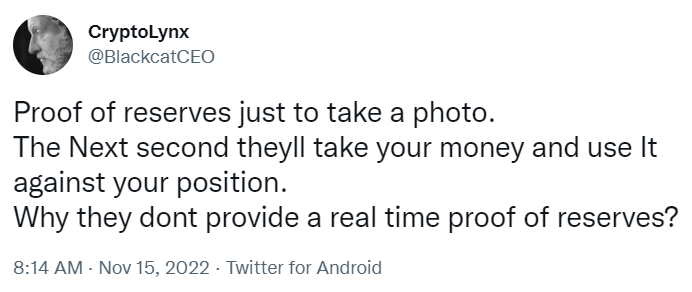 If you trade crypto, if you own crypto, or even if you just support the basic principles of what Satoshi outlined as a result of the financial collapse in 2008, you should be asking yourself one question.
Why is it that no crypto exchanges run on blockchain?
It's possible. In fact it's been done already.
Dragonchain offers a fully transparent, yet private, proof system for any exchange to leverage blockchain for immutable proof and accountability.
What's A Proof System?
A proof system is simply a way to prove data. Everyone knows blockchain allows us to ledger data in an immutable way. What sets Dragonchain apart from other blockchain systems is our hybrid architecture, patented interoperability, scalability, and measurable proof. Our Proof System encapsulates these technologies to allow businesses to capture and record copious amounts of information to prove data states at any given time.
Hybrid Blockchain Architecture
We use a hybrid blockchain platform to ensure that sensitive information remains private to the business while still leveraging multiple public blockchains for decentralized verification. This allows sensitive data to remain under the control of the business yet allows anyone the ability to prove events happened as claimed.
Blockchain Scalability
Dragonchain's patented scalability is supported by our hybrid architecture. Because every business has its own blockchain that operates independently from other blockchains on Dragonchain, business transactions are not affected by increase in network activity. Business transactions are immediately usable on chain and in time are provable with increasing levels of decentralized consensus. Proof is then secured with the combined security of Bitcoin, Ethereum, Binance Smart Chain, and any other public chain established via Interchain.
Blockchain Interoperability
The scalable hybrid platform allows businesses to ledger copious amounts of data but it's our patented interoperability technology, Interchain, that captures that data. Businesses can connect any external blockchain, legacy system, IoT device, or application to their independent blockchain through standardized interfaces to access data from any source. Proof Systems can be integrated quickly without the need for expensive development work and infrastructure changes.
Proof Report for Every Transaction
Now that data is on-chain, exchanges can provide real-time proof reports to authorized parties or consumers to enhance accountability and transparency. A Proof Report is the historical breakdown of a transaction. The report provides information essential to proving the transaction such as the transaction ID, timestamp, raw data, the hash of all public blockchains (Bitcoin and Ethereum), and the Transaction Security Value (TSV).
The TSV is a metric that quantifies how much hash power has gone into securing a transaction. Because businesses can leverage multiple blockchains, every transaction is secured by $4Billion USD each year.
Learn more about TSV here!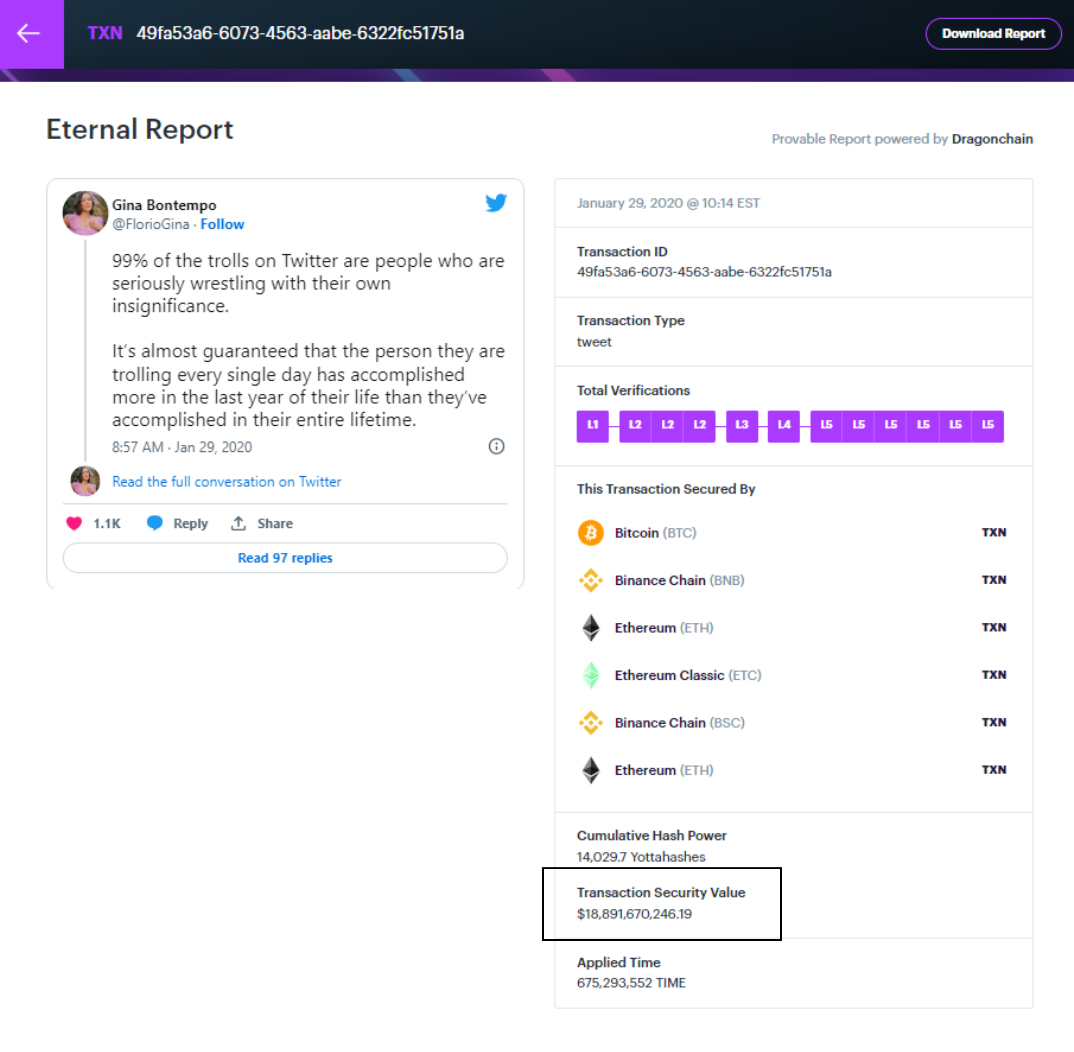 See the full proof report here!
Because of the hybrid nature of the architecture, businesses can customize the report to selectively choose what information is exposed without releasing sensitive information. These reports can be used to prove compliance to regulatory authorities or calm fears of market participants.
Regulatory Compliance
Businesses can integrate Dragonchain's Proof System into their existing regulatory compliance process. A simple integration with already in use reporting and analytics platforms, surveillance software, or risk management tools will allow businesses to leverage blockchain technology for immutable and measurable proof of compliance that goes beyond a database entry.
KYC/AML
Dragonchain's Advanced Identity solution leverages our hybrid architecture to separate sensitive information from the proof. Businesses can offer proof of KYC without the need to hold personally identifiable information. This significantly decreases risk and liabilities for the business as well as the customers.
With on-chain data, proving compliance in AML laws becomes that much easier. Exchanges can customize reports to automatically flag any suspicious withdrawal or trade over a certain threshold. By combining our Advanced Identity solution with Proof Systems, exchanges now have provable KYC to accompany their AML protocols.
How Proof Systems Have Been Used
Customers have used this system to provide proof of orders, proof of timing, and proof of volume.
By placing every order on-chain when created, customers could provide time-stamped proof as evidence for both the trader and the exchange that all transactions occurred well in advance of their fulfilled order. These time-stamped orders prove there is no "line jumping" and that brokers are not executing orders ahead of their clients. In addition, capturing all canceled, partial, pending, and executed orders allows for accurate volume data which is crucial to making informed trading decisions.
Exchanges who wish to prove reserves can place all other business transactions on-chain to capture assets and liabilities. Further demanding the same from investments in other projects.
It's time market participants demand more from centralized exchanges. Proof Systems use the fundamentals of blockchain technology to ledger data for time-stamped proof, immutability, and security. By integrating Proof Systems crypto exchanges are actually using blockchain technology to foster a transparent and secure environment for their customers. This crucial blockchain application can be replicated throughout all industries, across all businesses, even traditional exchanges.
Contact us today to learn more!