Interchain™ Between Blockchains and Traditional Systems
Dragonchain was recently awarded a broadening of its Interchain patent. The new grant protects the ability to Interchain between any two blockchains. This effectively future proofs Dragonchain's Interchain capabilities, by safeguarding interoperability between blockchains.
What is Interchain?
Interchain is the way all blockchains and traditional systems can connect in a secure manner. Although Interoperability is thought to be a token to token transfer, Dragonchain takes a multidimensional approach by focusing on token transfer, utility, security, and traditional systems.
Token Transfer
Allow users to transfer value or assets from one chain to another
Focuses on safety and security of decentralized value transfer
Security
Leverage other chains for security
Multi-algorithm security at low cost
Controlled exposure of data
Utility
Allows users to tap into specialized blockchains to integrate capabilities such as quantum computing, decentralized storage, supply chain, etc.
Provides flexibility and lowers risk to businesses using blockchain technology
Reduces strain on any one chain, keeping speeds high and cost low
Traditional Systems
Ability to keep software and services that already work for you
Harness the power of blockchain using existing IT infrastructure
This extension of the Interchain patent further cements Dragonchain as the leader in blockchain interoperability. To see this technology is action, visit the Eternal web application and create your first transaction for free.
Lifetimes Ahead
In expedited fashion, Dragonchain is happy to announce their original Interchain™ patent has been expanded. This expanded patent protects Dragonchain's unique architecture, effectively future-proofing its position as the leader in interoperability.
The original patent in 2018, focused solely on connecting a private or hybrid blockchain with two or more other blockchains. This expanded patent now includes connecting ANY two blockchains to Dragon Net, Dragonchain's hybrid consensus protocol. With this new recognition, no other blockchain platform can use Dragonchain's Interchain™ system to interop with another blockchain. This is an important distinction for Dragonchain as Interchain™ is the only verifiable, secure, and scalable, way to interop between blockchains and legacy systems. The broadened patent further cements Dragonchain's position as an innovator in interoperability technology.
We Are Dragonchain
Proudly a US-based blockchain company, Dragonchain is a technology leader in the blockchain space as evidenced by patents for Interoperability, Loyalty, and Scalability. Simply put, Dragonchain connects systems. Whether for a business, or a developer, Dragonchain provides a way to integrate legacy systems, ensuring data is secure and verifiable. With a focus on security, flexibility, and scalability, they help companies break into blockchain faster, without existing IT infrastructure changes, making the adoption into blockchain technology frictionless.
Origin Story
Dragonchain has focused on interoperability between private blockchain platforms since their early days at Disney, in 2014. In 2016, they were the first multi-chain hybrid to tap into the Bitcoin public blockchain from their private blockchains within Disney. In 2016, Disney released the platform as open-source software and in 2017 Joe Roets, Founder, and CEO of Dragonchain, built the commercial Dragonchain, Inc. Since then, a continued focus on interoperability solutions for the enterprise has led to the private/public hybrid architecture that serves as the foundation to the first and only company to successfully Interchain™ with public and private blockchains as well as legacy enterprise systems being used in businesses.
Misinformation and Ill-informed Populous
The current plague of misinformation and sub-par reporting is no stranger to the blockchain industry. Unfortunately, media reporting on the blockchain industry has become a roadblock to educating their readers about technological advancements within the blockchain space. Often articles lack purpose, due diligence, and honesty. One area where this is a problem is when reporting on the state of interoperability. Since interoperability became the buzzword of the moment, article after article tells the same story. Sure, the articles acknowledge the importance of interoperability for mass adoption, but they all come to the same conclusion. "Interoperability is not here yet" and "It has a long way to go." While that claim may be true for the industry as a whole, it is not the case for Dragonchain. They have been connecting private chains to public chains since 2016.
Interchain™ With Dragonchain
With Interchain™, interoperability is not only possible, it's operational. As mentioned earlier, Dragonchain first connected a private blockchain to Bitcoin in 2016. After some time of building out the code, they conducted their first commercial Interchains to Ethereum Classic and NEO on October 30, 2018, followed by Bitcoin and Ethereum, on October 31, 2018. Following those transactions, Dragonchain was awarded their first Interchain™ patent on November 20, 2018, initially focused on the interoperability between multiple blockchains.
Over the next year, Dragonchain continued to build out the platform, and on November 22, 2019, implemented their fifth Interchain™, Binance. Dragonchain's expanded Interchain™ patent was awarded April 1, 2020, to include interoperability between any two blockchains, further strengthening their Interchain™ capabilities.
As of April 14, 2020, Dragonchain has had 22,950 total Interchain™ transactions. Each transaction that flows through Dragon Net accumulates security leveraging all interchained blockchains. So not only is a transaction secured by an individual chain, it is secured by all chains connected to Dragon Net.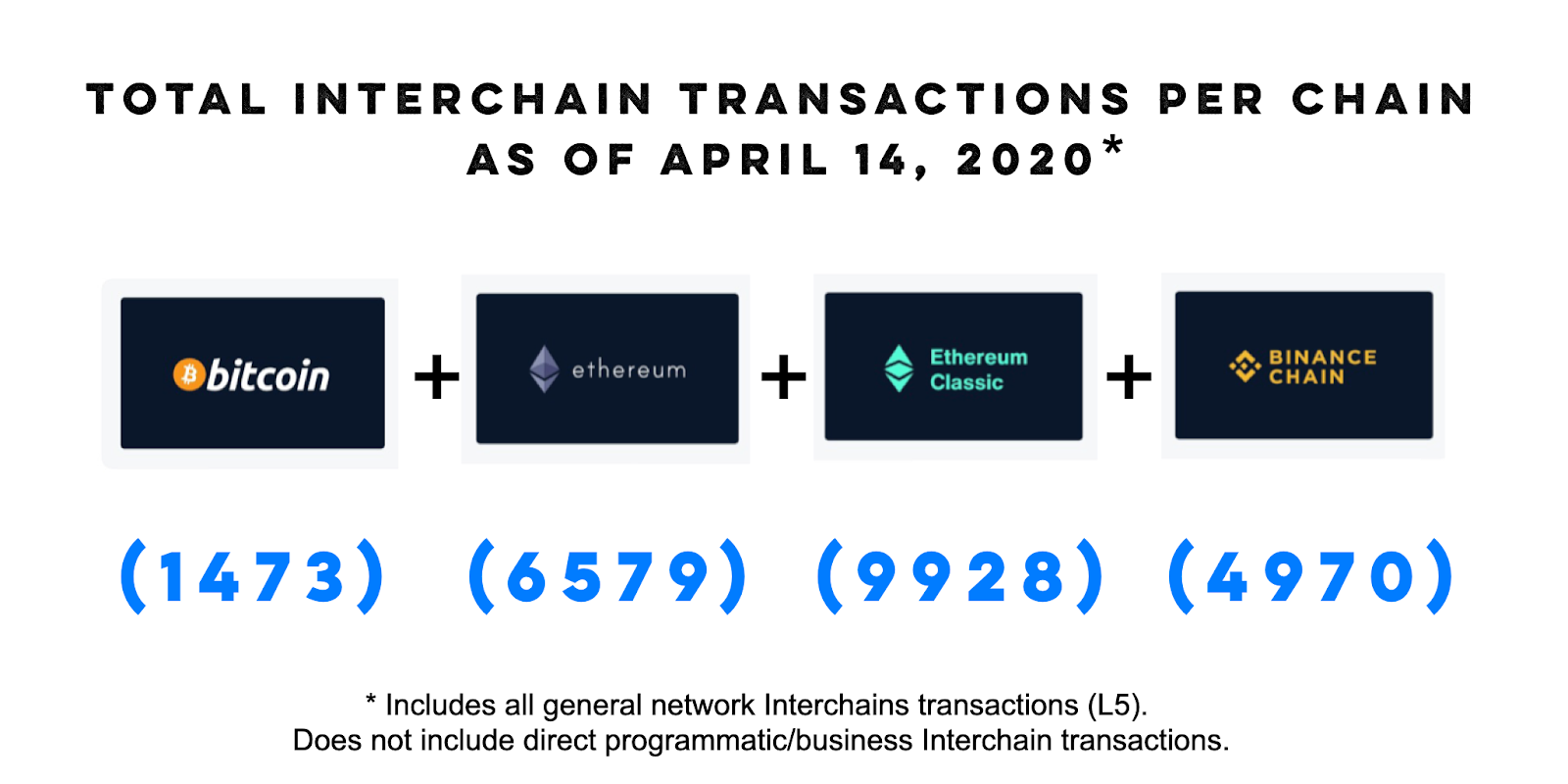 This Is How Interchain Works
A transaction flows from the L1 business logic private blockchain and goes through Dragon Net's five levels of independent blockchain verifications all the way to an L5 Interchain node, connected to a public blockchain (for example Bitcoin). Every subsequent block goes to another Interchain™, (e.g. ETH, ETC, BNB), aggregating the security applied to a business transaction to all Interchains connected blockchains. This results in every transaction being secured with a great deal of hash power and staking value in a very scalable way.
It's no secret the path toward the adoption of blockchain technology into our everyday lives has been a slow one. With multiple chains and multiple legacy systems to integrate, it has been a challenge to find a way for everything to connect. That challenge, although immense, needs to be met for blockchain technology to grow.
It's All In The Approach
In a very limiting way, most blockchain companies focus on a specific dimension, namely token transfers, when crafting their interoperability solutions. Dragonchain, however, takes a four-dimensional approach to interoperability.
Token Transfers
The ability to transfer assets is important for individuality and flexibility. When transferring assets from one chain to another, Dragonchain's focus is on safety and security. Since 2018, Dragonchain has had an operational token swap. Anyone who has ever used the console, claimed TIME, applied TIME, or funded an account is using Dragonchain's token swap system between Dragons and Ethereum. Although token swaps are interesting from a technology standpoint, blockchain companies focusing solely on this myopic approach to interoperability are unlikely to drive adoption. The business world doesn't understand blockchain and cryptocurrency enough yet to want to use it. Unfortunately, full blockchain adoption is still far away, and understanding how token swaps work is typically for the crypto community.
Security Interchain™
As the first hybrid private/public blockchain, Dragonchain's architecture starts at the private business logic level, allowing the business to decide what data to expose. Businesses keep sensitive data on a private network and selectively share data or business logic on a public chain for transparency. This approach to interoperability is important because it harnesses the security of public blockchain ledgers with privacy crucial to business data and paves a way for a hybrid blockchain that is scalable.
Dragonchain's security protocols involve low-cost multi-algorithms. By using the hash power of multiple chains, they provide proof that an event has taken place and when. Because of their unique interoperability system, Dragonchain leverages the combined hash power of ALL their current Interchains (Bitcoin, Ethereum, Ethereum Classic, and Binance). This is useful because if any of them has a 51% attack or any other issue, transactions on Dragonchain are still secure and backed by all of those chains.
The newest addition to products powered by Dragonchain is Eternal News Archive. With ENA's L1 private blockchain, the news archiving service watches a journalist's RSS feed for new articles. Using Dragon Net's five levels of verification, the article is then archived and secured to all four public blockchains. A proof report is then provided to the journalist for their records. To further prove the cohesiveness of Interchain™ activity, the archived article then feeds the ENA Lair within Dragon Den. This aspect of Interchain™ is beneficial in providing proof of a news article to combat censorship. As witnesses with reports coming out of China during the coronavirus outbreak, citizen journalists tried to get the truth out and were met with censorship and sometimes a more severe demise. In the event of censorship, the hash of an archived article using Interchain™ technology lives on all four blockchains.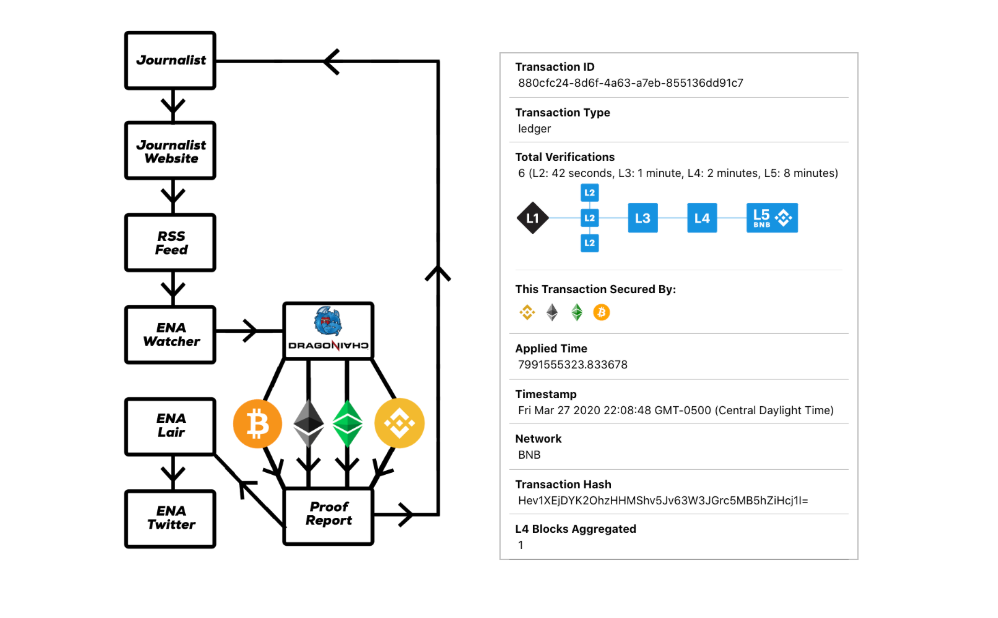 Utility Interchain™
Built to respond to issues such as supply chain and quantum computing, Utility Interchain™ allows users to benefit from the features of specialized blockchains. With Dragonchain, businesses have the option to leverage both the specialized features of utility chains and the all-purpose capabilities of public blockchains, giving them the best of both worlds. For businesses a major concern is flexibility. When writing to Dragonchain you can leverage Ethereum when it's needed and when a new chain comes along a business can use Interchain™ to capitalize on the new utility. This flexibility lowers the risk to businesses using blockchain and reduces strain on any chain, keeping speeds high and cost low. When discussing Utility Interchain™, Joe Roets emphasizes the necessity of Utility Interchain™,
"It's a must-have and absolutely valuable with respect to the adoption of all blockchain projects. With Utility Interchain™, these projects can leverage each other to promote adoption and to meet customer needs." For example, Storj is a decentralized cloud file storage platform that uses encryption, file sharding, and blockchain-based hash tables to store files on a peer-to-peer network. A business that uses Storj for its file saving needs would simply Interchain™ with the business's L1 node. After Storj encrypts the files, the transaction goes through validation on Dragon Net and is secured by all Interchained blockchains. A full chain of custody proof including all public blockchains is available.
Traditional Legacy Systems
Every aspect of Interchain™ combines to make up the four dimensions to interoperability serving as the foundation of Dragonchain. But the key approach in fostering mass adoption is connecting traditional legacy systems to high-security blockchains. Joe Roets,
"The ability to connect a traditional enterprise system with one or more other traditional enterprise systems AND one or more blockchains is paramount for mass adoption. The great feature here is ledgering that interaction for proof, auditing, and some degree of selective transparency. That is, the ability to prove to anyone that some particular process or operation is being followed as agreed."
The Interchain™ system of interoperability is unique as it allows for flexibility and a more organic integration allowing an enterprise to retain its current software systems. The frictionless onboarding is as easy as setting up an account as well as billing. After that, an enterprise can create its own blockchain ready for deployment within five minutes. For further flexibility an enterprise's existing developers can immediately, using their own favorite language such as Java, Python, Go, Dart, C#, and even shell script, and create a system of smart contracts within a Docker container to deploy to the business's private blockchain. Or, if they so choose, Dragonchain has a library of smart contracts ready to go.

As an example, an electronic health record (EHR) company like Cerner or Epic has to hold medical records for several years. Those records need to be accessible, in real-time, via the company's existing network. The interoperability that Interchain™ provides allows the company to interface active data with legacy medical records. A smart contract connects stored medical records within the company's network to their L1 private blockchain node. Each transaction flows through Dragon Net's five levels of verification culminating on all interchained blockchains. The EHR company keeps the private patient data on their servers and decides what level of data to make accessible to the public. While adhering to HIPPA and GDPR guidelines, only predetermined data is visible and the private data remains private. Dragonchain's Interchain™ between public and private blockchains is a cohesive solution to the problem of providing both transparency and privacy.
Even with all this flexibility and ease of onboarding, Dragonchain is happily still available to assist in implementation as we are still in the early stages of blockchain adoption. The path to mass adoption will take close partnerships to learn what challenges face business's now and into the future.
Harness The Dragon
In a nutshell, the first-mover advantage is evident in the solutions to interoperability from Dragonchain's Interchain™. This very simple integration allows businesses to keep their core systems. While adhering to regulatory guidelines such as GDPR/CCPA, Dragonchain makes it possible for businesses to integrate data and business logic on their very own private/public hybrid blockchain, leveraging decentralization and interoperability to ensure their data is both verifiable and secure. Every component to Interchain's four-dimensional approach is simultaneously usable according to each business's interoperability needs. Flexibility takes center stage as IT staff can appreciate the ease of using known languages and best practices when developing solutions. Instituting an Interchain™ solution becomes quite powerful as security, utility, and flexibility are harnessed in an infinitely scalable way.
Change doesn't always have to be difficult. But it needs to be complete. Solely focusing on a one-dimensional approach to interoperability does a disservice to the industry. Fully implementing blockchain solutions for transparency, accountability, and security requires a holistic approach. It also requires an in-depth understanding of what challenges face businesses and consumers so we can provide solutions in a way that makes them easy to implement.
Change doesn't happen overnight. We won't suddenly wake up to a blockchain connected world. There will be a transition period where all parties involved learn about each other and devise solutions to bridge the gap between legacy and emerging technology.
Dragonchain is pushing boundaries to drive worldwide blockchain adoption. Blockchain technology represents freedom from long-standing inefficiencies and restraints. They believe in empowering users to shape their own future and reimagine what is possible with Dragonchain.
When asked if there was a legacy system he could not Interchain™ with, Joe Roets' one-word answer? "No."
Liberty Innovation Fundamentals. Eternal.