Hotel Loyalty and Rewards Programs in 2020 and beyond with blockchain
Customer loyalty is the cornerstone of a successful business. Building a loyal customer base and keeping them engaged takes dedication, not only to your brand but also to your customers. Striking that ideal balance will ensure years of continued growth and prosperity.
Many industries use loyalty programs to stay engaged and to thank their customers for choosing them over the competition. Loyalty programs help provide market research to increase in reputation, growth, and, ultimately, sales. Customers participate in loyalty programs primarily for the cost savings. Discounts and perks help stretch their dollar further.
The Historic Transformation of Loyalty Programs
The history of loyalty programs spans back to the 1700s when American retailers started giving customers copper tokens with purchases. The tokens were redeemed for future purchases. Using coins proved costly, so loyalty programs transitioned into stamps in the 1800s. Stamps continued to be the go-to form of rewards well into the early 1900s, where individual companies introduced their own ways of engaging customers. Any parent or teacher will be familiar with one of the most well-known iterations of these stamps. Betty Crocker introduced box tops in 1929, laying the framework for loyalty programs as we know them today.
Half of all memberships go unused
Now, from airline miles to hotel perks to club cards the typical US household is enrolled in 19 to 29 unique loyalty programs for a total of 3.8 billion memberships. However, when you look at these numbers, it's quite mind-boggling that more than half of those memberships go unused with households only using 5 to 12 different loyalty programs.
Providing a program attractive to your customers is likely the easy part. The challenge is keeping customers engaged. To do that businesses need to also be engaged. Follow-through is critical and affects your bottom line. It costs five times more to attract new customers than to retain existing ones. Even though 81% of customers agree that loyalty programs will make them more likely to continue being a customer, businesses are still coming up short. The vast majority, 80%, spend less than 30% of their time and budget on keeping the customers that favor their brands. Customers want to use loyalty programs however if the program is difficult to use or doesn't benefit them there is no motivation to make it a part of their routine. Including a loyalty program is a win/win for both the customer and the business, but if more than half are inactive everyone loses.
Loyalty and Rewards Programs in the Hotel Industry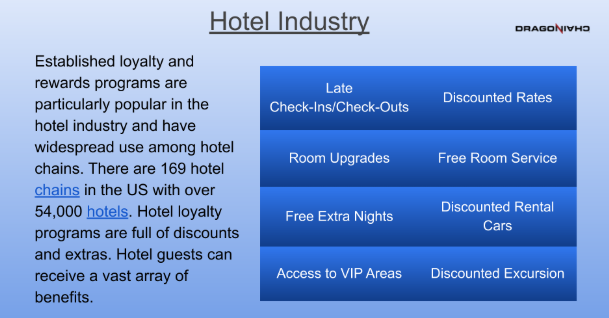 As prevalent as hotel loyalty programs are today, it would seem most guests participate in loyalty programs however nearly 60% of guests still don't belong to one.
Drawbacks of Current Hotel Loyalty Programs
Loyalty programs are not without drawbacks. For the hotel, rewards take on the form of currency. The length of time between a hotel guest earning rewards and the guest redeeming the rewards can leave the hotel's financial sheets unbalanced for increased periods of time. Hotels are met with lost revenue as guests redeeming rewards displace paying guests. There is a risk of creating an imbalance in the earn/redeem process when guests earn at less desirable locations and redeem at more desirable locations. Hotel guests often have preconceived expectations and when they enter a hotel where those expectations are not met it can have far-reaching consequences. Complaints on reviews and posts to social media can negatively affect the hotel's reputation. For the guests, issues often arise with inconsistent properties as the majority of hotels are associated with chains that have different management and staff. Guests also struggle with complicated earning and redeeming schemes, which lead to frustration and expired rewards. A growing requirement in loyalty programs is personalization. With the majority of programs being one size fits, all guests are not getting a personal touch. In turn, they retreat and engagement is limited. Consumers have expressed further frustration with loyalty programs both inside and outside of the hotel industry.
Confusion on how the program works
Consumers must track different (and often overly complex) registrations
Too many physical loyalty cards, countless apps, multiple logins and passwords
Takes too long to earn rewards
Privacy and identity vulnerabilities
Lack of transparency
Hilton
Let's look at Hilton, for example. The popular hotel chain has a typical point-based hotel rewards program. Hilton Honors allows members to earn points for hotel stays, credit card purchases, and car rentals. Like many reward programs in the industry, points can be redeemed for room upgrades, hotel services, access to VIP areas. Points are also used for car rental discounts and even purchases on Amazon.com. By offering such perks Hilton Honors hopes to maintain a steady stream of repeat guests. The more guests in the rooms the more people making purchases in and around the hotel.
The Hilton Honors program seems flexible at first glance, but a closer look reveals some of the same issues outlined above. The plan structure contains four tiers, which could be confusing. Earning and redeeming rewards are with very specific business partners which limits the guests' choice and can leave guests looking for that personal touch. While points can be redeemed at more than 4,800 Hilton properties, there are a few sites where you are unable to earn rewards for staying. The best perks are often more expensive. For instance, premium room upgrades come with a high redemption rate.
Unfortunately, the hotel chain does not make a rewards chart available and as a result lacks transparency. Guests are left wondering if the rewards they are receiving are in line with their dedication to the brand. Lack of transparency can get in the way of establishing trust with the hotel's guests. That half can be a problem for the hotel as almost half of loyalty program members will sever relationships because they've lost trust in the business.
Like most brands running loyalty programs, Hilton has increased administration costs from running a loyalty program. Since Hilton Honors rewards extend beyond Hilton to other parties, like car rental facilities, delayed reconciliation of accounts, especially with lagging redemptions, affects the bottom line. Further frustrations include operational disturbances for perks such as late check-ins/check-outs and room upgrades.
Provable Loyalty
To run a successful loyalty program, Hilton must provide an atmosphere that satisfies guests while keeping their financials and operations in mind. When that balance is off, any event shared across social media has the power to make or break the hotel. The balance can be maintained with the use of provable loyalty not only to the business but to the customer as well.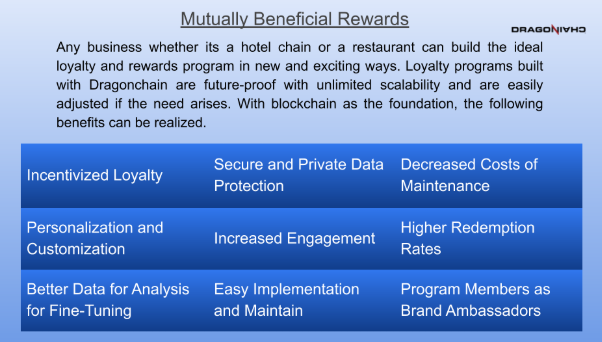 Solve The Problem With Smart Contract Algorithms
What is a Smart Contract
Smart contracts vital in solving the problem of trust between people and stakeholders. They benefit all industries by reducing unnecessary costs and time expenditures, while also increasing security and transparency.
A smart contract is a self-executing contract with the terms of the agreement between two parties written into lines of code. They facilitate credible transactions in a traceable and permanent manner, with no need for third parties. Smart contracts allow businesses, governments, organizations, and developers to control which contractual clauses are made partially or entirely self-executing and self-enforcing.
All smart contracts are customizable but with Dragonchain they are bi-directional. First, they can send out a transaction with fully configurable parameters to the selected network and then wait for the transaction to be confirmed. When the confirmation count is met the contract will post. Second, they can also be programmed to send a response every time something happens.
The applications for smart contracts are wide-ranging since they can apply to virtually any set of if/then situations. For example, smart contracts would allow credit card transactions at a hotel chain to trigger automatic communication with a digital wallet of a loyalty program member to transfer token funds into the rewards account for immediate use, without the need for intermediaries saving time and money.
If a hotel used smart contracts with its loyalty program when guests reached a certain threshold, rewards can automatically be triggered drastically reducing redemption times. The rewards can take any form the hotel outlines from free stays to drinks at the hotel bar. Further stipulations in the contract can define special characteristics to provide a personal touch unique to one program member.
Alternatively, the hotel could query its loyalty program members and invite those with the highest balances to a valued customer event or send those with the lowest balances and earn double rewards weekend promotion.
The benefit of using smart contracts with Dragonchain is that all transactions are on-chain. Proof of rewards are visible to all and can be used for anything with any business outside of where the rewards were earned. For instance, if Jojo earned rewards at Hilton, Avis rental car could say, "We see you are a long-standing member of Hilton Honors. We have a special deal for you today. Would you like to use your rewards?" The benefit of this for the member is they are in control of how they use their rewards. For Hilton, the rewards are taken off the books sooner as Jojo will not be able to travel anytime soon. However, his car broke down and he needs a rental. Avis now has a new loyal customer.
Transparency
Transparency is as important as the protection of data and privacy. To provide flexibility for the customer to exchange and use rewards freely, proof of rewards is accessible to not only the members but also the entities to which those rewards are redeemed. Earning and redeeming transactions are secured by public blockchain therefore provable. Every transaction is on-chain and provable making partnerships between businesses more efficient. Using a Dragonchain's blockchain loyalty program with a token component allows customers to benefit from immutable time capabilities as a means to measure and reward based on time. This system allows you to reward customers for their time and create more transparent and reliable loyalty programs.
Customization and Personalization
Loyalty programs with a personal touch are highly favored among members. Those members are three times more satisfied with a personalized loyalty program than those without personalization. The increased presence of Online Travel Agencies (OTA's) such as Expedia and Booking.com makes it more difficult for hotel brands to keep current members loyal to only their specific hotel. Data-driven insights allow us to tailor hotel-to-guest experiences and increase direct bookings. Loyalty as a Service, combined with self-sovereign identity, unlocks transformative ways to meet customer needs for more precise and customized offers.
Due to smart contract algorithms and the flexibility of Dragonchain, different loyalty systems for different groups of brand ambassadors and customers can help provide the ever-important personalization required by today's customers. Exclusive offerings and unlock-able programs based on a user's history tailored to their interests will keep them engaged.
Programs can increase the usage of rewards by utilizing a digital wallet to be stored on a smartphone app for member convenience and brand engagement. Members should be allowed to exchange rewards to provide flexibility on when and where they redeem their rewards. It's important to build an application with the easiest user experience in mind. Some applications would not be best for some customers. A blockchain-based loyalty program with digital elements is perfect for the millennial generation and beyond.
Learn more about the potential of blockchain for your loyalty & rewards programs. Contact the creators today
Real Guest Reviews
For better or for worse, businesses recognize the importance of a social media presence. The effects of both positive and negative reviews on social media have far-reaching consequences. Aside from repeat guests, loyalty programs can be used to incentivize behavior such as encouraging customers to leave a review, which can become part of the vital social media presence the modern hotel needs.
Aside from reviews, a hotel can benefit from guests posting to their social media feeds while using any of the hotel's services and facilities. The guest in effect becomes a micro-influencer which can open up an additional advertising scheme for the hotel. The guests can be rewarded via the loyalty program immediately without intermediaries.
The first step in this process is the app. While only 26% of American customers will stop using a loyalty program if it doesn't have a smartphone app, 71% of shoppers say they would be more likely to use their loyalty cards if they could access these cards and rewards from their mobile phone. An app-based decentralized rewards system could easily be linked to social media accounts to share positive experiences and bring awareness to the brand. With Dragon Factor, identities can be verified to facilitate verified real reviews. A public ledger integrated with a customer database would ensure that a public review based on customer experience is genuine once signed. This would require no administration or permission from the business itself, and potentially lead to a trustworthy testimonial system that is jointly owned by customers and businesses. Rewarding feedback (negative and positive) will lead to better information for the business and can be weighted based upon the loyalty of the customer and the quality of the feedback.
Blockchain Loyalty Programs through TIME
At the core of Dragonchain's loyalty program, is TIME. This patented technology tracks and monetizes the passage of time with blockchain, creating brand new value systems and blockchain capabilities. By tracing an account's change in TIME, one can create a record of time-stamped events, resistant to doctoring thanks to blockchain's immutable properties. TIME is a resource that can't be replicated or adjusted in value and is unable to be gamed by bad actors. This introduces the ability to prove that an event happened when someone says it did; people are no longer beholden to written or verbal accounts they can't prove themselves.
TIME goes beyond the traditional passive reward systems commonly seen in other businesses by incentivizing positive behaviors in an ecosystem and limiting undesirable outcomes. The primary role of TIME is granting access to features within the loyalty system and is designed to be compatible with functionalities such as discounts, priority access, or anything else the brand would request. Any behavior can be incentivized and rewarded based on TIME.
Dragonchain rewards its brand ambassadors with TIME itself through tokenized micro-licenses, giving them access to services, rewards, discounts, and parts of our ecosystem.
TIME for Security
Trust is a common concern for all users within any network. As a member of a loyalty network, all parties want assurances that other entities, especially those with a lot of influence, are trusted and bad actors eliminated. TIME enables this type of security and provides trust in the network. As the gating mechanism that keeps out potential threats, TIME serves as the determining factor for access to different features within a loyalty network.
TIME must be earned over time, meaning that an incoming user with malicious intent will have extremely limited access to the platform and therefore cannot pose a threat to other users. For a loyalty program, this gating system not only prevents potentially harmful activity but also instills trust in the members as well as the brand.
With time-based loyalty incentives, the rewards earned are embedded into a token. Rewards are distributed based on a score specified by the business, normalized from 100 to 1000. Once the member receives a specified score, rewards are distributed. A business can use the time-based system even without integrating a token into its program. For program members, earning points is more familiar than earning tokens. However, with Dragonchain's time-based loyalty system, the business is positioned to transition to actual tokens without disruption or additional costs when the time comes.
Dragonchain Features
Flexibility
Transactions are recorded immediately resulting in rewards being distributed faster with quicker redemption times. Coupling that with giving the customers the freedom to access and manage their rewards provides a versatile program that fosters engagement with your brand and balanced financial sheets.
Developing the ideal loyalty program with Dragonchain is met without friction as any developer has the flexibility to work with the code languages they already know, further saving the business time and money.
Scalability
With Dragonchain the ability to scale is limited only by the cloud, so theoretically unbounded. Multi-cloud and on-premise solutions allow small businesses or the large enterprise to grow and change their loyalty program with minimal disruption and additional costs. Smart contracts assist in this effort as they save time on paperwork and bureaucracy.
Reduced Cost
A blockchain-based loyalty rewards program will reduce system management costs. Brands can save on intermediaries now that all parties can trust each other's data and the contracts to properly execute the transaction. Smart contracts decrease errors and incidence of fraud and will automate processes. Executable code is more precise than traditional contracts that are sometimes left for interpretation. Dragonchain loyalty rewards allow for non-blockchain based systems to realize the cost benefits associated with blockchain without the upfront cost associated with other loyalty programs. Protection of Data and Privacy Any blockchain-based loyalty solution will provide an immutable and time-stamped record. Every transaction will result in a traceable record that can prevent double spending, fraud, abuse, and any other type of manipulation of the transactions. However, only Dragonchain provides a solution with privacy as the foundation. 51% of Americans trust loyalty programs with their personal information but there is room for improvement. With Dragonchain all private data remains with the individual businesses unless explicitly permissioned otherwise. Keeping data private and secure decreases the risk of a business opening themselves up to data breaches. All programs with Dragonchain are compliant with GDPR and other similar data protection regulations around the globe, without any loss of performance, flexibility, and scalability. The flexibility that the customer wants does not have to open them up to an increased risk of data breaches.
Full Circle
The idea of a tokenized reward system is simply the next iteration of the copper tokens given in the 1700s. Today's digital tokens, accessible via a smart app, are a natural progression in technology. For businesses and program members not ready to access token rewards via an app, the underlying technology is integrated with points programs, merging the traditional and the new to build a program that truly benefits all parties.
A persistent downside of loyalty programs to organizations is unused incentives. Unrealized incentives present specific accounting challenges, and might end up costing an organization more than the benefits they offer. Dragonchain smart contracts solve this problem by allowing that redemption to be automated, eliminating the possibility of unused points. TIME keeps bad actors at bay and rewards loyalty. Dragonchain was built on privacy and transparency with flexibility at its core. The loyalty & rewards business solutions incentives any behavior a business would want. Perimeters can be adjusted at any time without friction, saving businesses time and money while providing an engaging loyalty program every guest will want to join and promote. Provable time-based loyalty tokens or points have far-reaching benefits and create an atmosphere of true loyalty to the brand instead of to the discounts. Whether its frequent stays, total dollars spent, or years of loyalty brands who take a holistic approach to measure loyalty will find Dragonchain can support any form of rewards the members and the business would find beneficial.
Ready to implement additional utility to your new or existing loyalty & rewards program? Contact Dragonchain for a consultation or brainstorming session on how we can innovate your loyalty program together.